The Melpool product range contains different types of disinfection products based on chlorine. Practice has shown that chlorine is very effective against bacteria, viruses, algae and other organic substances. When dosed correctly, the ideal product to keep swimming pool water crystal clear and clean.
Every swimming pool and every practical situation is different. That is why Melpool also includes various chlorine products;
| | | | | | |
| --- | --- | --- | --- | --- | --- |
| Melpool product | 55/G or 63/G | 70/G | 90/20 | 90/200 | 70/20 |
| Granulate/tablet | granulate | granulate | tablet 20g | tablet 200g | tablet 20g |
| Fast dissolving (shock) | yes | yes | no | no | yes |
| Continuous chlorine release | no | no | yes | yes | no |
| Average resolution time | < 1 hour | < 1 hour | 3-6 days | 3-6 days | 1-2 hours |
| Chlorine stabilizer (UV) | yes | no | yes | yes | no |
| Size of pool | all | all | 5 – 35 m³ | > 30 m³ | > 5 m³ |
Note:
Always dissolve granulate in a bucket of lukewarm water before adding it to the pool water. Watch out for splashing water; can cause bleaching. Never throw chlorine granules in the water or in a floating dispenser. Undissolved granules can sink to the bottom. They can attack the bottom and cause bleaching spots.
Always let tablets dissolve in the skimmer or a floating dispenser. Do not throw the tablets into the pool. You can easily get bleach stains and damage the bottom of the pool. Always ensure sufficient flow of the tablets, to ensure they dissolve in 3-6 days.
Chlorine-free: Melpool OXY
Melpool OXY has been developed as an alternative to chlorine. The product acts as a strong oxidizing agent and is therefore very effective against organic contamination. Melpool OXY is not a disinfectant. It is therefore recommended to regularly use a chlorine shock in addition to Melpool OXY, for example by using Melpool 55/G.
Note: Melpool OXY is not compatible with chlorine products. Only dose OXY when the chlorine has worn off and vice versa. Otherwise, the products neutralize each other's efficiency without any desired effect.
Products for disinfection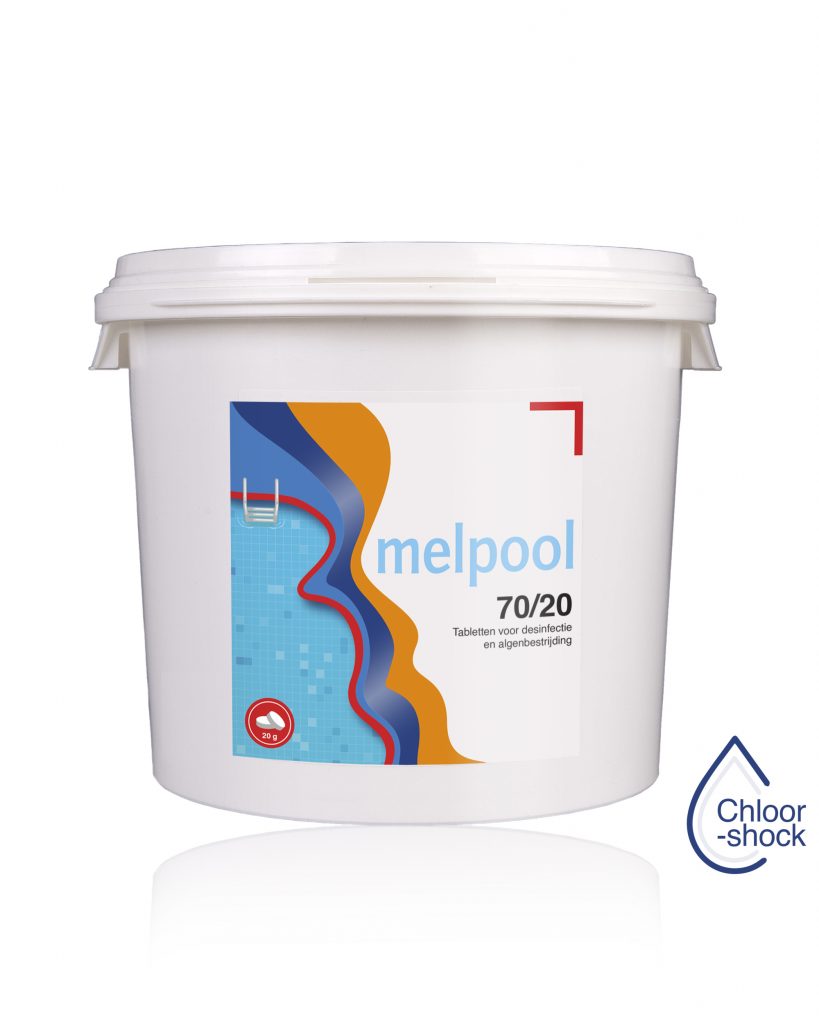 Calcium hypochlorite tablets for swimming pools.
Chlorine tablets 20g (Min. 70% Cl) for swimming pool water. Very effective against algae and organic deposits. For continuous disinfection in soft and medium hard water. High-quality chlorine product: also suitable for public swimming pools and drinking water disinfection. Contains no chlorine stabilizer: no danger of chlorine overstabilization.
Help with water treatment